Folegandros for lovers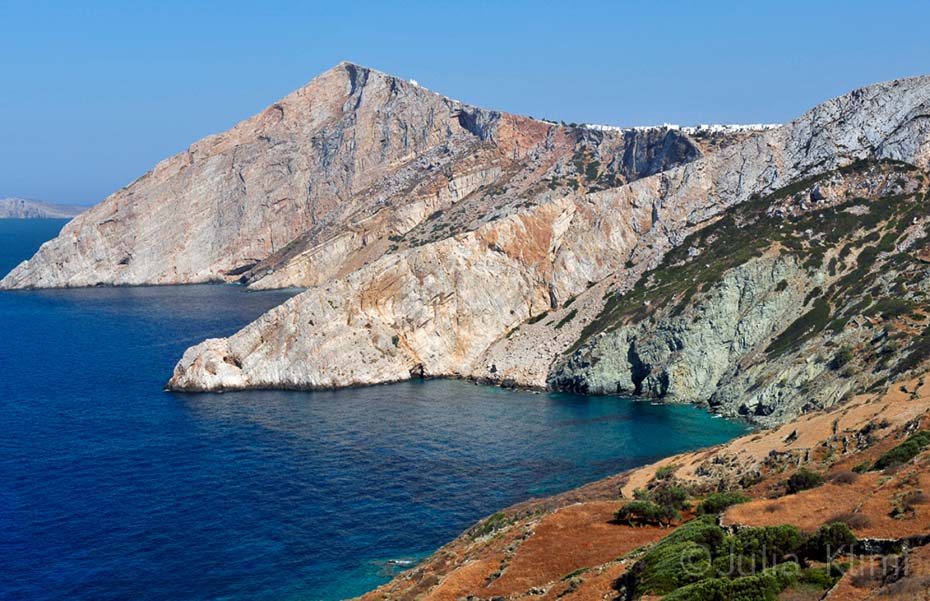 The authentic and unadulterated Cycladic beauty of Folegandros is deeply moving. Since the summer of 2004, when I first visited the island, nothing has changed but the rate at which beautiful guesthouses are being built. All the rest has remained the same. Hora−the main village of the island−is, in my opinion, the prettiest in the Cyclades, with its labyrinth of narrow lanes, three main squares surrounding churches and shaded by tall plane trees, where one drinks one's coffee as a gentle breeze blows through the alleys. Pounda square, with its amazing sea view from the steep cliff on whose edge it sits, is magical all day long. Opt for breakfast at Lisbeth's lovely "Pounda Café", accompanied by the music of Hatzidhakis, in a flower-filled courtyard right on the square, and sample their entire menu. Here, the simplicity and imagination with which local dishes are made with local ingredients are impressive, and the manner in which they are served resembles a sacred rite.
It is well worth wandering in the medieval neighborhood called Kastro−full of bougainvillea and hibiscus that impart color to the whitewashed houses with their small wooden balconies−and enjoying the legendary sunset from the church of Panayia, which sits on a rock that towers above the village, watching the scarlet sun and feeling the moment's magic, or hiking downhill from Hora to Agali beach.
In the northwestern part of Folegandros, the rural settlement of Ano Meria, with its thimonies (autonomous farmhouses) and the lemon-houses (small towers built around lemon trees to protect them from the strong wind) you can still encounter old men riding donkeys, who greet you with a nod.
Here, you must visit the "mythical" grocery store and tavern of     Irini and try matsata (local pasta) made in the kitchenette and served with slowly-braised rooster, along with a salad of capers and fresh tomatoes−true bliss! Or try a salad with Folegandros-grown tomatoes topped with souroto (local fresh cheese) along with small pies stuffed with wild greens, at "Iliovasilema". Or taste local honey and pasteli (sesame seed candy) from the local workshop, and pass by the folklore museum to get an insight into the island's traditional life.
There are so many simple pleasures to experience in Folegandros: an unforgettable swim at Katergo beach; a leisurely stroll in the settlement of Petousis, with its goats, hens and threshing-floors; the fragrant bread and the kalasouna (local cheese pies) from the wood-burning oven in the bakery at Ano Mera. A hike on the path towards the lighthouse of Aspropounda, between dry-stone walls and wild greens, where you will be rewarded with the view of the stunning white lighthouse with its ironwork ornaments, as you stand on the slope in pulsing changes of light; a tour of the island in Vangelis' caique; a swim at Livadhi; enjoying ouzo with octopus as you sit barefoot in the sand near a small tavern in the main port of Karavostasi; residing in Hora at the luxurious "Anemi", or the simple "Thimonies"; being a tanned tourist dressed up in your best and watching the parade, while sitting at one of the many tables in Kondarini or Dounavi square or at "piatsa" for a meal or a drink−the best places to be in the evening; enjoying the sunset at "Rakentia", drinking rakomelo (warm raki with honey) as you gaze out at the vastness of the sea and the moon-bathed sky after midnight…