The Caiqui House, Alonissos island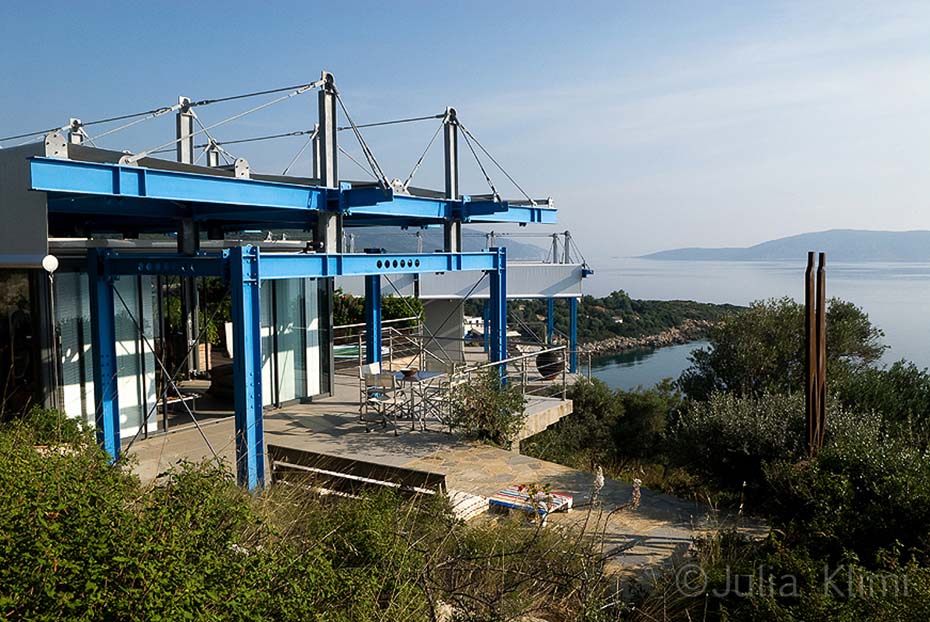 A stretch of land on the island of Alonissos, with an open view towards the small cluster of islands in the National Maritime Park, was the site that inspired the well known Italian architect Enzo Testa in designing this original summer house. "I reached Steni Vala for the first time long time ago", says Testa. "Along the coast of the scenic cove there were only caiquis, which where the most characteristic elements of the landscape. Later on, when I was designing the house, I started thinking about them , about the simplicity, utility and beauty of these traditional Greek  schoonas. So I  build a house in honor of the caiqui, one of the most poetic symbols of Greece".
The house which is divided in two spaces, each in a separate building, was designed to cover the needs of an Italian couple who spend their summer vacation here. The basic concept of its design are two glass cubes built on different levels, completely  incorporated  in the sloping site, which create between them a protected area, open to the beauty of the landscape. The residents of the house particularly appreciate the feeling that the natural environment "invades" the house and is unified with it when the large sliding doors open up. They also enjoy the shady comfort provided by the system of tents, the charm of the natural vegetation around the house which remains unblemished and wild, the boundless view to the sea and the eternal crisscrossing of the boats all day long.
Julia Klimi