Crater house, Antiparos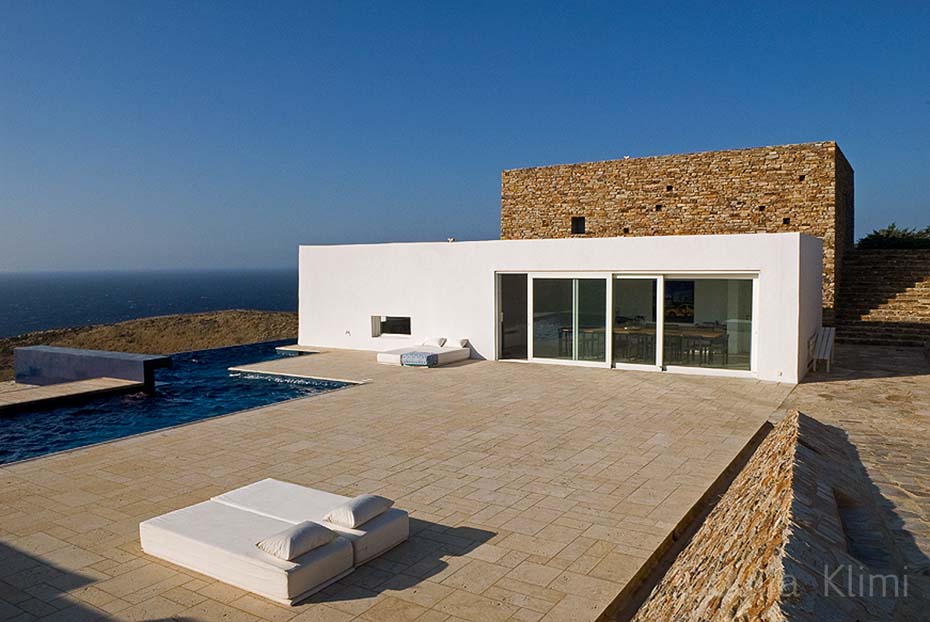 Design that captivates the eye and absolute assimilation to the natural environment : these are the predominant qualities that characterize  Deca, a creative platform of architects based in Athens, this award winning residence is situated on the top of a hill enjoying a breath taking 360 degree view off the top of the Cycladic island of Antiparos.
The house gets it name from a man made Crater that was sculpted into the landscape concealing the volume of the house from the village and protecting the exterior living spaces from the natural elements. The approach to the house is a steep linear path leading to the lip of the Crater, where the house is revealed. A ramp dips down into the main crater area were the flow through the interior areas of the house commences. Four elements are combined to form the living experiences of the house and the landscape : Stone surfaces from the edges of the crater. The "alien"  ,which is a white rectangular volume that lies in the crater, where the kitchen and the dining areas are located, large glass openings, dissolving the distinction between interior and exterior spaces. and "Lava flow" ,which is  a path that flows under the pool into the landscape. At the end of the path lies the guest house. Finally, the water corresponds to the 25-meter swimming pool that runs around one side of the crater, directly in line with a small island north of Antiparos. At its western corner, an infinity effect gives swimmers the feeling of visual continuity between the water in the pool and the surface of the sea. Relaxation is a key concept of the project. Ideal for this purpose is the patio, a protected by the wind outdoor living space with unlimited view and the kitchen/dinning room, which is an open space with design furniture and contemporary works of art, that give color to the immaculate white space.
Julia Klimi
Styling Julia Klimi