Cycladic country home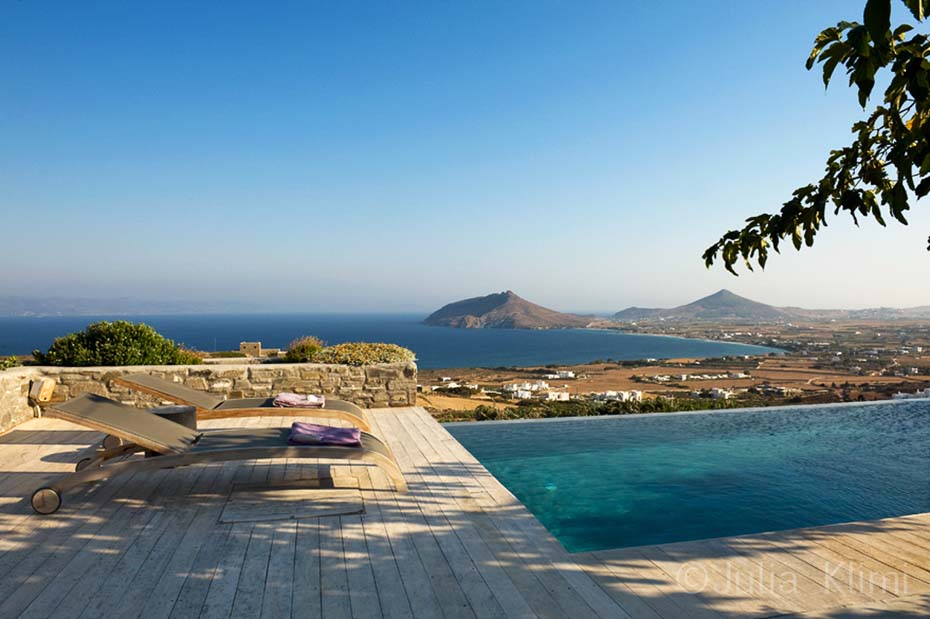 An old farmhouse converted into a modern holiday home on the Cycladic island of Paros by a couple from Athens who enjoy spending their holidays on their beloved island. Located on the top of a hill at Isterni, the house enjoys a magnificent sea view to the east, and the island of Naxos across the channel.
The basic idea of the architect and owner, Nikos Zefkilis, was to maintain the old farmhouse as it was, and at the same time, to create a completely different new addition that included a large living-room and an open bedroom. "This was achieved in two ways", explains the architect. "In the old building, I preserved the small-scale construction with its low ceilings, the plasticity and color of the walls, and in general, the old layout. Conversely, the new section of the house – consisting of the living-room and main bedroom – has large openings and clean, modern lines. The height is 4.5 meters, with walls made of grouted stone (instead of plaster) and the color is off-white.
The materials for the construction of the main house are the gray stone of the island, with cement mortar by the talented craftsman, Yannis Pirgis, and ceilings with walnut beams.
In this house, Cycladic architecture, with its curves and niches, irregular wall surfaces and built sofas and tables, is presented in interesting contrast with modern architecture and furniture (e.g. airport sofas by Paola Navone), while at the same time, it resonates harmoniously with the Greek wicker chairs and the old sinks which the owners discovered at old curiosity shops in Athens. A skylight just above the sink counter bathes the main bathroom with natural light throughout the day.
From the outside, the house is distinguished by the simplicity that characterizes Cycladic architecture, though it is the pale pink color of the building that steals the show. "I attach great importance to the proportions, simplicity of lines and the construction materials," states the architect. "The Cyclades demand simplicity. "How can one impose something sophisticated on such an austere landscape?" he asks.
Bed Linen from Pragmata Concept Store
Text/photography/styling by Julia Klimi
Translation Vicky Anastasiadou