Symi, A sea-wrapped jewel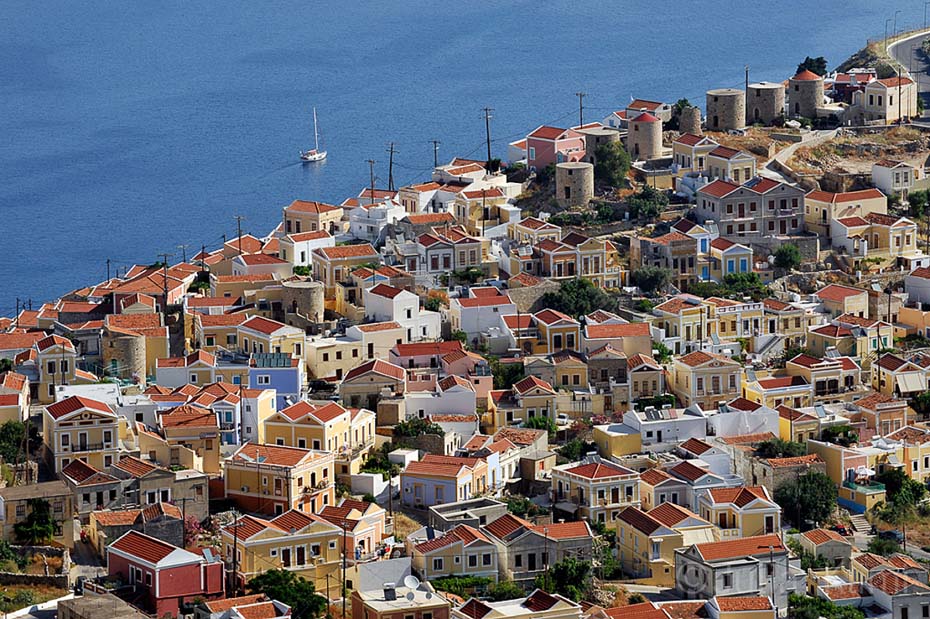 A tiny dot in the Aegean, Symi bewitches its visitors with unsurpassed charm from the very first glance, with its scenic harbour, its vividly-painted neoclassical houses seeming to emerge from the sea, the unadorned rocky landscape, the emerald-blue of the sea, the scent of history combined with Anatolian aromas that reach the island from the coast opposite. Symi attracts well-to-do Europeans, who fall in love with the island and renovate houses, making the island their second home, as well as yachters from neighboring Turkey who visit the island again and again.
Once an island of shipowners, seafarers and the largest sea-sponge harvesting center of Greece, with offices as far away as Miami, Symi is inhabited today by sailors and frequented by sophisticated travelers, offering its visitors fascinating aquarelle-like scenery, the beauty of well-preserved 19th-century captains' mansions decorated with pediments and pilasters on the façades and painted in red, indigo and ochre colours that defy time. Breathtaking slopes that plunge steeply into the sea, spectacular, off-the-beaten-track sandy or pebbly beaches, accessible only by boats leaving every hour from Yialos, crystal cool waters where one can swim in the company of seals, comfortable accommodation at elegantly furnished two-storey dwellings with high ceilings, haute cuisine dishes to sample at fine restaurants under the starry sky offers shelter and seclusion to actors, designers, ultra-chic English women and Italians who love the beauty of the island and have bought homes during low spread periods.
The island from noon onwards is teeming with people, as the big tourist ferries arrive from nearby Rhodes and hordes of red, sun-baked human lobsters, disembark.
In the afternoon the island regains its calm and aristocratic splendor, and then at sunset, yachts proudly enter the port of Yialos one after the other, while some drop anchor in the protected eastern and northern bays, to enjoy serenity and the scent of resin from the surrounding pine-cloaked islets. Symi is an elegant diamond, just a breath away from the coast of Turkey, with regal beauty in a harmonious environment.
Julia Klimi
Translation Vicky Anastasiadou