Galfetti's Cycaldic Project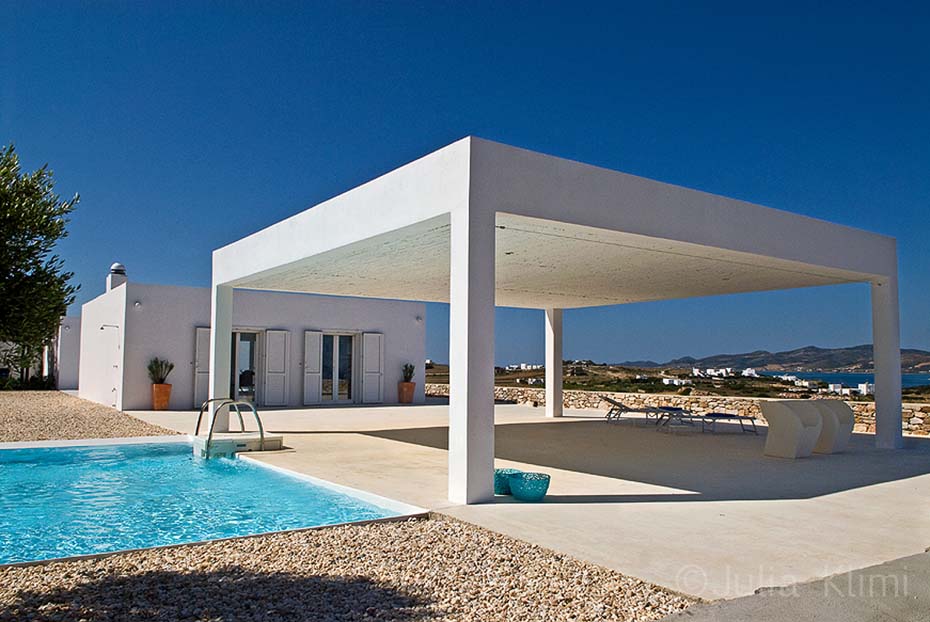 The traditional cubist architecture of the Cyclades ,which he has been visiting and studying for the past 30 years, has been a main source of inspiration for the famous Swiss/Italian architect Aurelio Galfetti (one of the main exponents of Ticino architecture of the 20th century, who together with Mario Botta, founded the Accademia di Architettura in Mendrisio) in designing a modern holiday home for his friend, a renowned trumpet player and his wife on the island of Paros . Surrounded by water, but always parched, Paros features many of the elements considered quintessentially Cycladic. The barren, rolling landscape with hills that taper to the sea, the vast golden grain plains that wave when caressed by the wind, the scattered white cube-shaped houses: all this enchanted the owners, who enjoy staying here whenever possible-even in the heart of winter. Τhe white refuge, which is set in an unspoilt environment on the south western tip of the island, recently came true.
Guided by the essential element of Aegean light and the lay of the land, Galfetti created smooth surfaces of unique harmony and plasticity that perfectly tie in with the landscape. From a simple architectural project – 3 cubes- an architectural form was born with free-flowing comfortable spaces, clean lines that open towards the vastness of the sea .In the interior, nothing interrupts the sharp, clean lines of the surfaces: everything is hidden behind plaster panels that do not reach up to the ceiling, concealing cupboards, bathrooms and storage rooms. The white walls unify the total space and the people living within them provide the colour. Every day the sunset is a spectacle not to be missed. From the large veranda you can watch the sun dive into the fiery sea right next to the island of Antiparos as the palm trees gently rustle in the breeze.
Images & Text Julia Klimi
Translation Vicky Anastasiadou