Industrial living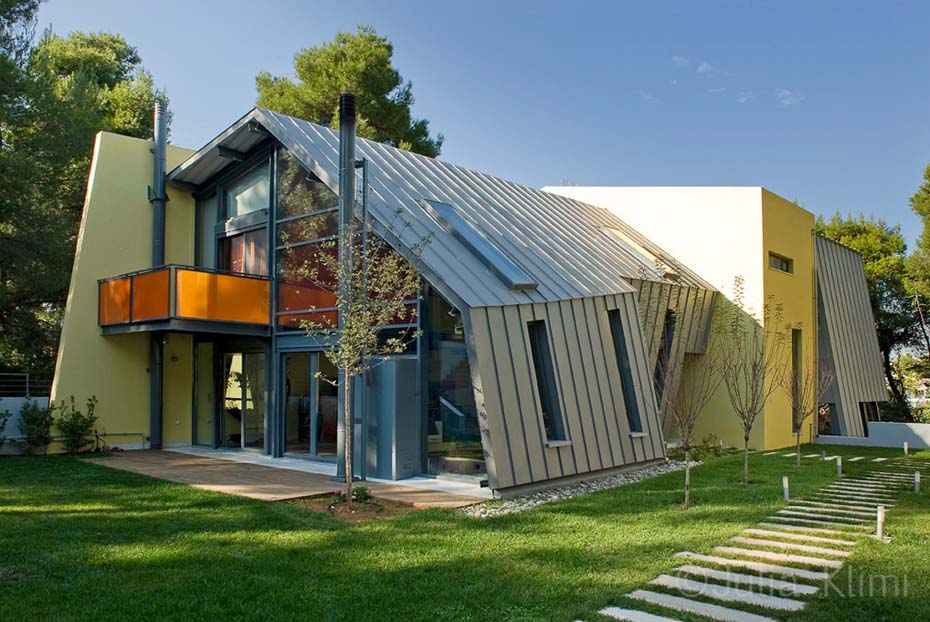 The project designed by Re-act Architects (Natasha Deliyianni and Yiorgos Spyridonos) concerns a family residences with garden in Anoixi, a suburb north of Athens. The construction process consisted of a metal frame resting on concrete walls. The roof is cladded with zinc and glazed windows form the facades.
Basic synthetic principals of the design are: Dissolution of limits between lived space and natural, the unification of the internal of the buildings with the surrounding external space. Organisation between private and common spaces through the use of the concrete wall connecting the two sides of the building. Creation of a unique geometry through the use of metal construction. Forming of views in the interior and exterior of the building through openings that are adapted in the metal roof. The house itself has a loft feeling; the way it is designed enables the user to enjoy every moment in it. The idea of a house in split levels creates a filmic experience as you walk through it framing views from inside to outside and vice versa. The materials that have been applied create an industrial – bohemian atmosphere that gives a cosy feeling to the inhabitants.
For the railings they chose yellow, orange and green colours and sandblasted glass. The house's unconventional form and appearance are juxtaposed to the comfortable feeling created by a double height industrial space that offers a unique experience.
Julia Klimi