Modern villa on the cliffs, Santorini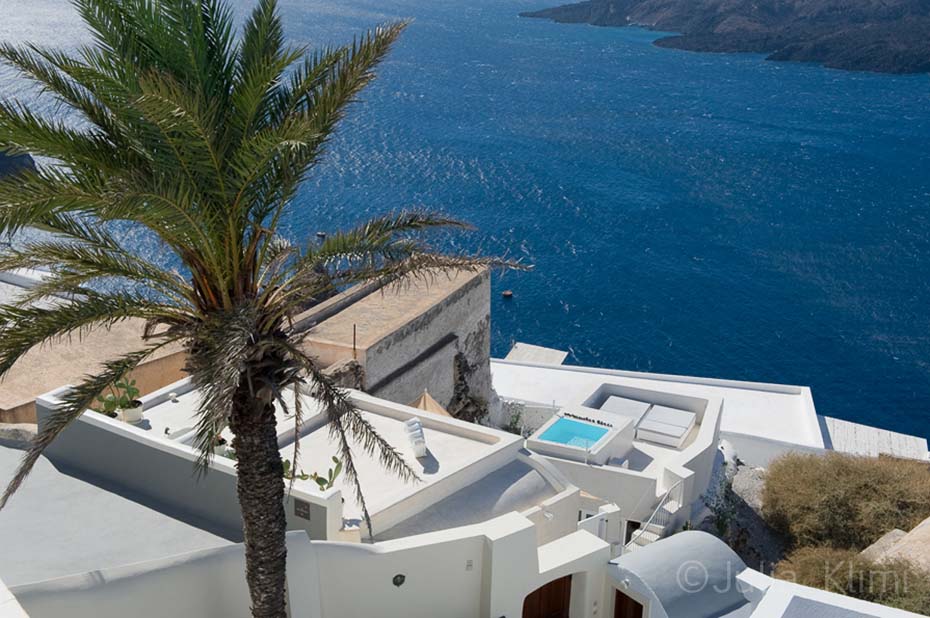 Modern villa on the cliffs
Greek architectural office Kapsimalis Architects has renovated a small white house on the cliffs of Santorini island, adding two roof terraces with plunge pools, and a third and more sizeable swimming pool in the basement.
Alexandros and Marianna Kapsimali converted a small property on the cliffside town of Fira, on the volcanic island of Santorini, Greece, to create the two-bedroom holiday home. The house is split into two small volumes located on either side of a courtyard, on a densely built plot beside the coast The architects added two terraces and large windows to foster better connections between interior and exterior spaces "The connection between indoor and outdoor is achieved through the fact that the walls and the floor inside the house displays the same material as the exterior surfaces, finished in a local technique of white cement mortar," Alexandros Kapsimalis said.
The pool is sunken into the floor of a turquoise-lit room with a low vaulted ceiling that gives the space a cave-like appearance.Outside, a set of steps rises from the courtyard and splits at a landing, turning in one direction towards a sun deck and swimming pool on top of the kitchen, and in the opposite direction to the first floor bedroom.
Here, the bed is positioned on a platform level with a large window to take advantage of sea views.The main intention of the project was the design of large openings, as much as possible, in order to offer a panoramic view, sunlight and a direct relation between interior and exterior spaces," said the architects.A bedside table and bench are carved into the platform, while rounded alcoves in the bedroom wall are used as wardrobes and for a bathroom sink. An arched glazed doorway leads out of the bedroom down a set of narrow white steps to another small pool.Pale orange triangular awnings, contrasting the stark white facades of surrounding housing, are hung over the doorways to screen the terraces and glazing from the sun.
Published in Dezeen & AD magazine & Grece is
Images & Styling : Julia Klimi